Audio descriptions: Artworks in the exhibition On Earth.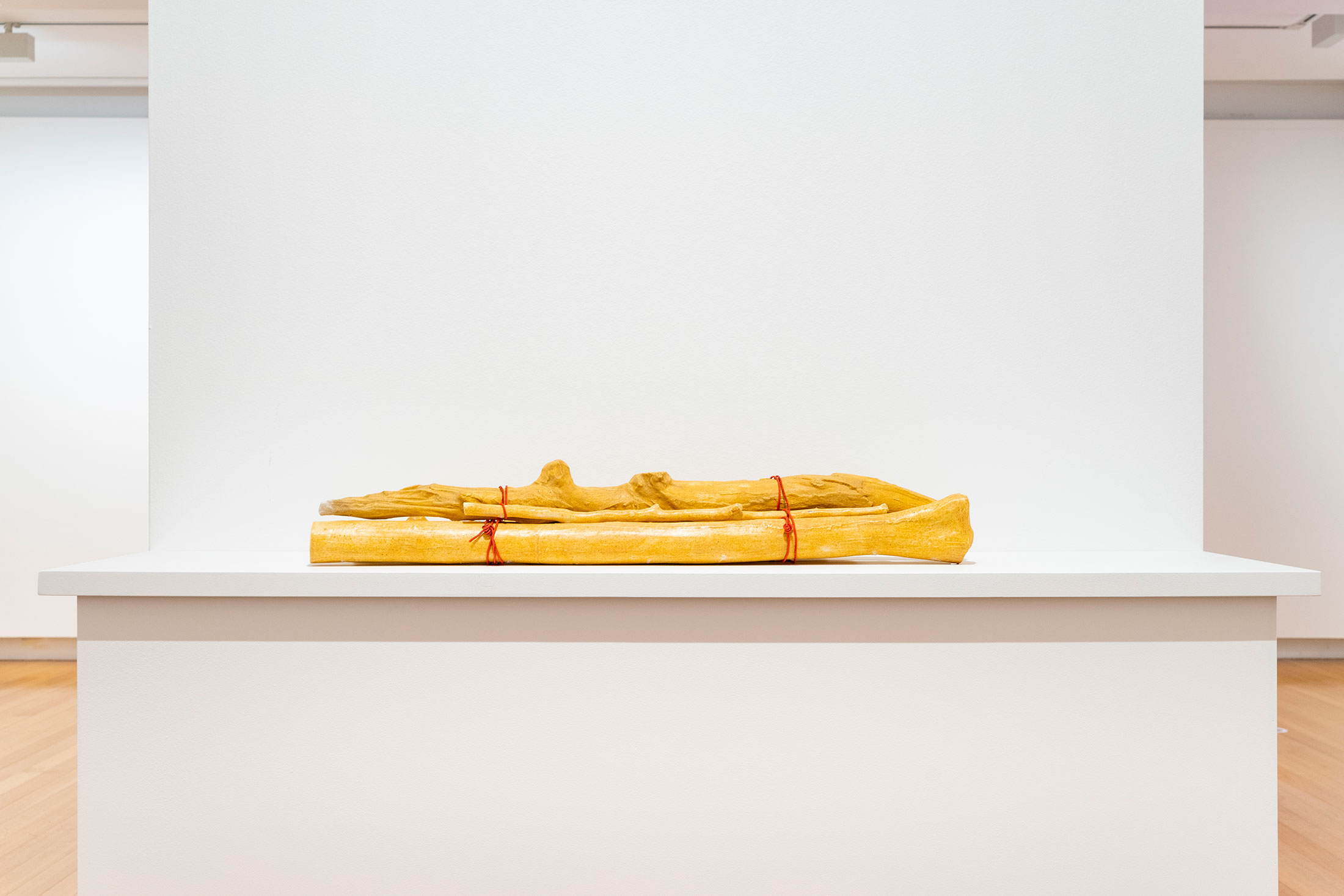 Yasmin Smith, Bundle of Ntaria Branches 10,2015/2021, mid-fire slip with Hermannsburg wood ash glaze (River Red Gum, Mulga, Palm Tree), black copper oxide wash, electrical wire. 16 x 97 x 28cm. Courtesy the artist and The Commercial, Sydney. Photo: Louis Lim.
---
Bundle of Ntaria Branches 10 by Yasmin Smith, 2015/2021.
This sculptural work is number 10 in a series that the artist made and first installed in 2015 in a major installation called 'Ntaria Fence'. This work and 'Ntaria Branches 9' are presented in a new configuration in 2021, being shown on separate open white shelves. The work resembles a bundle of branches, tightly bound together with red plastic-coated electrical wire at either end, and it is 16 centimeters high by 97 centimeters long and 28 centimeters deep. There are five branches in total lying in a horizontal bundle. They are light sandy brown in colour with a sheen. Four are of a similar length and diameter, and one is much smaller, and positioned between the front two. They are primarily straight in shape with irregularities and mostly smooth with some textured areas. They are hollowed out like bamboo, and white on the inside.
This artwork is made from casting branches using a slip-casting method that consists of making plaster molds of the branches then pouring a white clay slurry, called slip, into them. Once set, the artist cleans and adds additional details to the cast sculptures by carving into them, before firing it with a mid-fire, which describes the temperature of the kiln. The artist has glazed the work with Hermannsburg wood ash, which consists of River Red Gum, Mulga and Date Palm tree ashes, and she has also used a black copper oxide wash.
'Bundle of Ntaria Branches' came out of the artist's time living in Ntaria (Hermannsburg) in 2014. She was there working with the Hermannsburg potters on an art project when she became intrigued by the fences made mostly of branches, as well as the natural environment.
Travelling back there in 2015, the artist collected branches of trees in the area, and with permission from Traditional Owners, she then used tree ash from cooking fires found behind the town's old church, as a glaze for her sculptures.
Yasmin Smith is a Sydney based and born artist. She specialises in ceramics and often creates site-specific installations through a combination of research, community collaboration and studio work. Site-specific refers to works that directly responds to and is often presented in a particular place. Smith's sculptural forms respond directly to an environment and she develops the glazes from the natural materials found in that place. In doing so, she explores the unique chemical traces of the local materials, as well as the history of the landscape.