Audio descriptions: Artworks in the exhibition Fiona Foley: Veiled Paradise.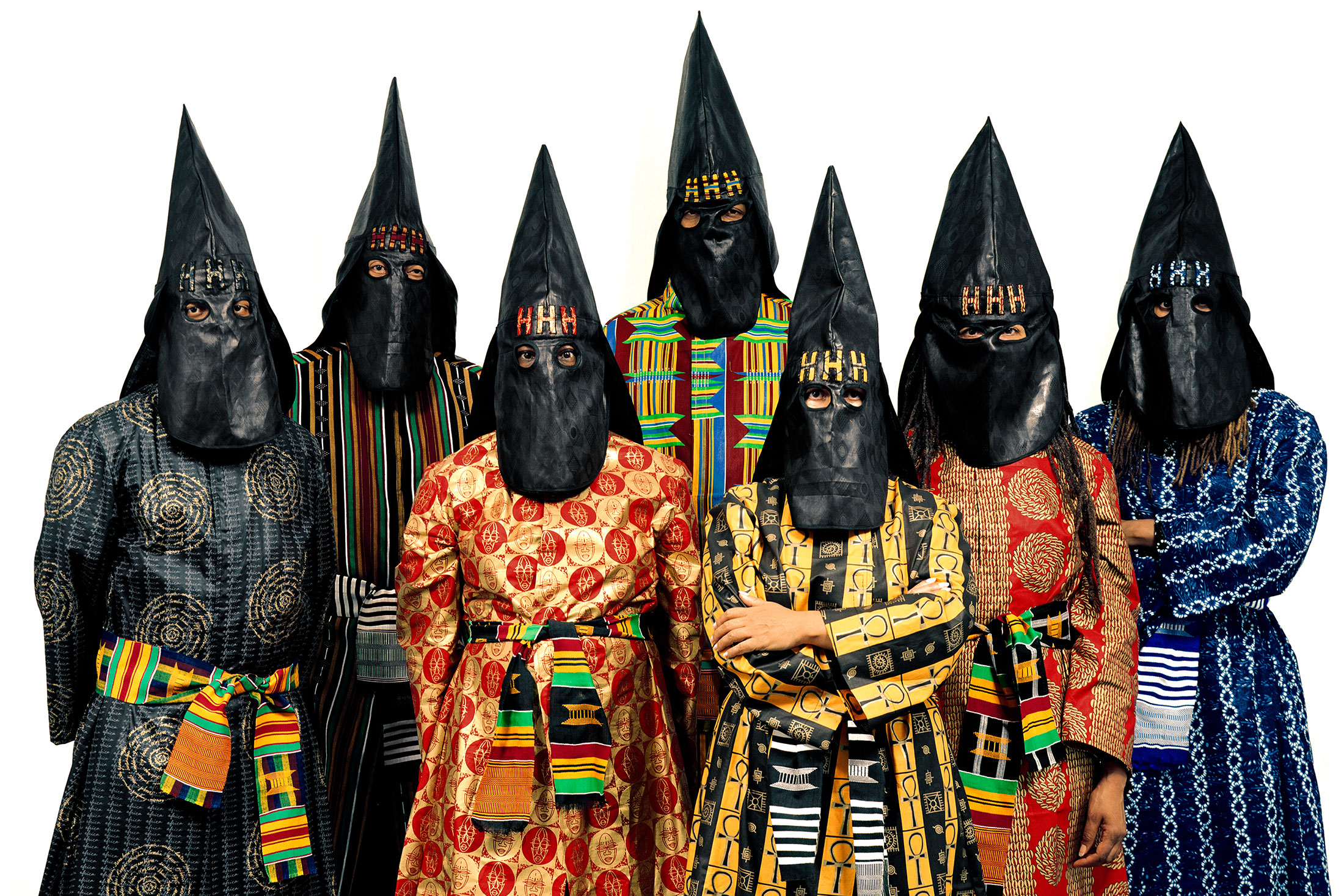 Fiona Foley, HHH (Hedonistic Honky Haters) I, 2004, direct positive photograph, 102.4 x 125.8 x 3.7 cm. QUT Art Collection, purchased through the Betty Quelhurst Fund, 2006.
---
Fiona Foley, HHH (Hedonistic Honky Haters) one, 2004.
Pictured in a beechwood or light brown frame, with a stark white background this artwork is a photograph measuring 102.4 centimetres high by 125.8 centimetres wide by 3.7 centimetres deep.
It features seven African American men of varying heights and builds standing in a slightly semi-circle shaped cluster, shoulder to shoulder. Two are in front and the rest are behind, two with their arms folded, the rest with their arms by their sides or behind their backs. All are facing forwards. They are wearing colourful African textiles in rich colours, including deep blues, reds, and gold, and on their heads, they are wearing tall black pointed hoods that cover their faces and curve at the front along their chest and behind their shoulders. Two round circles are cut out for their eyes, the letters 'HHH' in block letters in matching patterned print are on their forehead. The background is white, and the figures fill most of the image, being cropped from the knees up. Their outfits are long sleeved robes, with ties of a differently patterned fabric loosely tied around their waist. Their whole bodies are covered except for their hands, and the hair of the two figures on the far right can also be seen. They both have long dark brown dreadlocks, hanging over their shoulders. The dark brown eyes of all the figures are staring straight at us.
HHH (Hedonistic Honky Haters) is a series of seven photographs that the artist made over a five-month period in New York. Here, the first image in the series incorporates all the figures that were shot for it. Others in the series feature individual people.
Interweaving the race politics of America and Australia, the hoods seen in this work are reminiscent of those worn by the Ku Klux Klan (KKK) who would wear white gowns and hoods while carrying out some of the most atrocious acts that America has seen against black people. Fiona inverts these hoods not only by her use of colour—black and the brightly-coloured patterns associated with African textiles—but by the title of the work. According to the artist, HHH was a secret society that existed in North America in the 1960s. The term 'honky' is African-American slang for a white person. The figures pictured here are claimed to feature members from this secret society.
The photograph also inverts the notion of ethnographic photography, with the subjects in the photographs looking directly at the viewer, and the backdrop being a white wall similar to that found in a museum.