Audio descriptions: Artworks in the exhibition On Earth.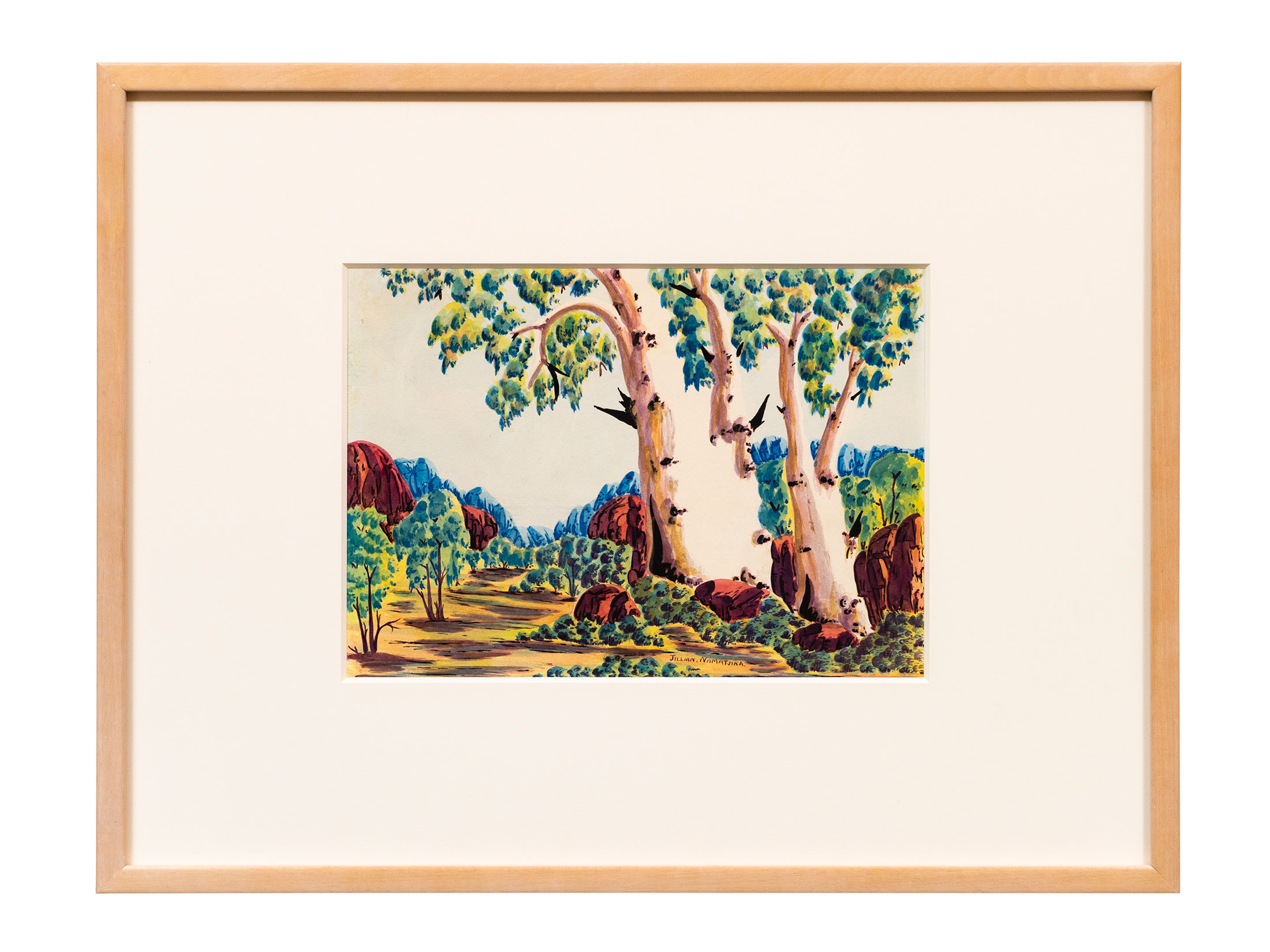 Jillian Namatjira, Petermann Ranges, Central Australia, 1985, watercolour, 28 x 38 cm. QUT Art Collection. Purchased 2001. Photo: Louis Lim.
---
Aboriginal and Torres Strait Islander listeners please be advised that this artwork is by a deceased artist.
Petermann Ranges, Central Australiaby Jillian Namatjira in 1985.
This is a watercolour painting on paper that is 28 centimetres high by 38 centimetres wide and framed in a light brown frame surrounded by a wide cream mat board. It features an Australian desert landscape scene of the place named in the title of the work, Petermann Ranges, which run across the border of Western Australia and the Northern Territory, near the Uluru-Kata Tjuta National Park.
The landscape is painted in vibrant naturalistic colours and bold, defined shapes. The scene recedes towards a vanishing point on the lower third of the work, to your left of centre, which creates a sense of depth and perspective. The rocky mountain range dips at this point, making a 'V' shape, gradually rising on either side with individual rounded boulders. The range in the distance are multiple shades of bright blue, and the closer boulders are shades of dark orange. In front of the boulders are low-set green trees and shrubbery and the flat ground is different shades of brown, yellow, orange and green, roughly triangular in its overall shape, its point at the dip in the mountains.
The main features of the work are three gum trees on your right, starting in the bottom corner and finishing in the centre, positioned in a receding diagonal row with small gaps between. The bright quality of the light is conveyed in the brightness of the colours and the absence of the sections of the tree trunks. This is most pronounced in the central tree, having only the base and the upmost branches painted in. There is a large diagonal in-between space showing the unpainted off-white paper in the centre. The leafy green foliage of the trees extends above the picture plane. The sky behind is clear and a muted blue. In the centre of the gumtrees along the base, the artist has signed the work with her name, Jillian Namatjira, in capital purple letters.
Namatjira was born in 1949 in Areyonga (west of Hermannsburg), and she is a descendent of the Pitjantjara, Arrernte and Kukatja people. She was the Granddaughter of renowned artist Albert Namatjira, with her painting style similar to that of her Grandfather's. Namatjira passed in 1991. She was active during the 1970s and 80s, and one of the few women in the region to attract recognition for her work as an artist.