Audio descriptions: Artworks in the exhibition Fiona Foley: Veiled Paradise.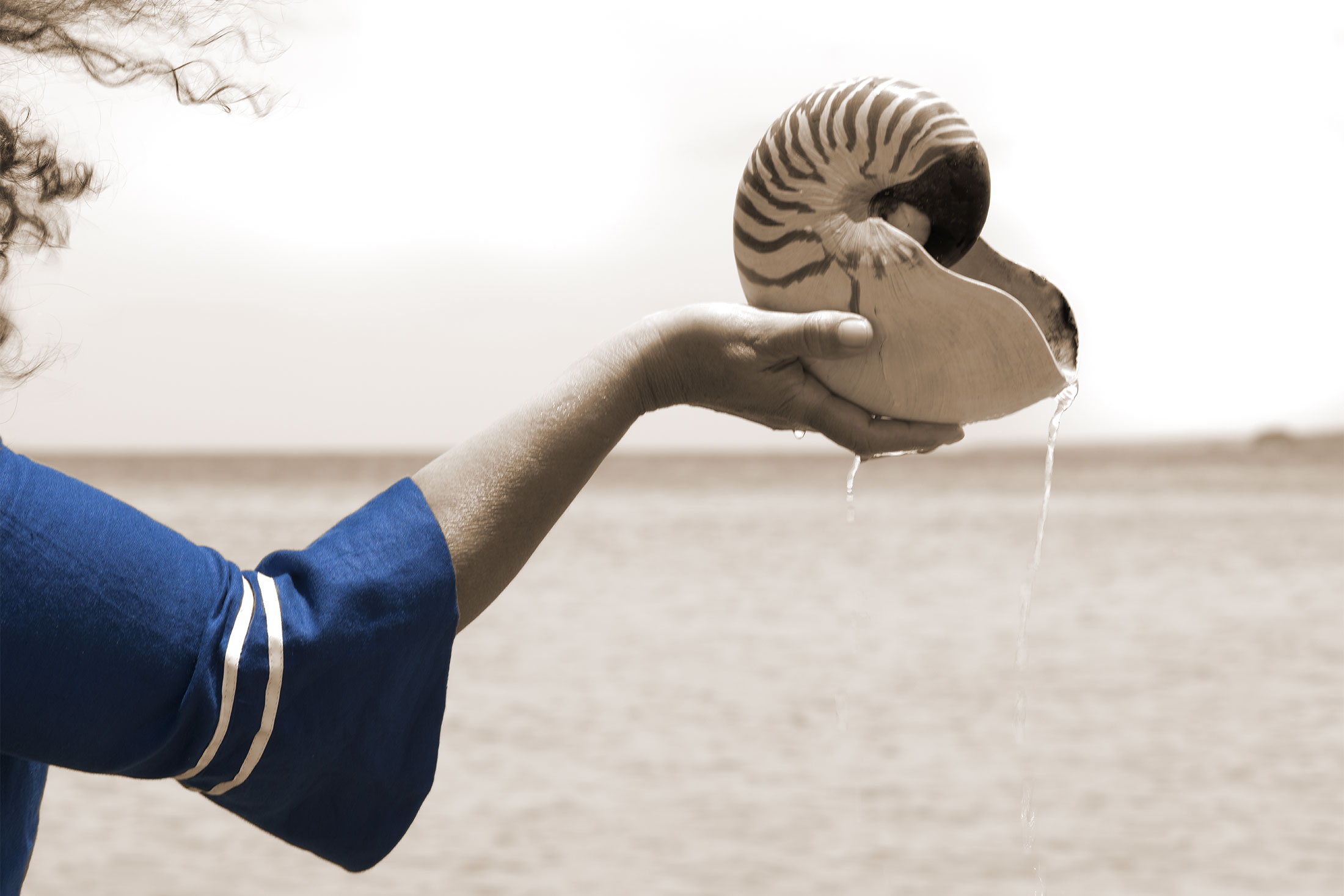 Fiona Foley, The Oyster Fishermen #1, 2011, Inkjet print on Hahnemühle paper, edition of 15, 60 x 80cm, Courtesy the artist and Andrew Baker Art Dealer, Brisbane.
---
Fiona Foley, The Oyster Fishermen one, 2011.
This is the first photograph in a series of sixteen, and it is an inkjet print on Hahnemühle paper, edition of 15, and measuring 60 centimetres high by 80 centimetres wide. The image is floating on a white background, which is surrounded by a white painted frame.
This photograph is mainly sepia-toned – sepia is a brown-tone used by photographers to make photographs look older. The photograph features an out of focus background with a clear white sky along the top of the image and a calm and flat brown sea, which starts just above the centre line.
In the foreground and in focus is a person's arm from just below the shoulder, extending from your left-hand side to just over the centre of the work. In the top corner on your left wisps of dark curly hair are at an angle, as though blown by the wind. The arm has a three-quarter blue sleeve with two white bands above the elbow and a loose and rounded opening below. The blue is the only colour in the artwork. The arm is angled up at the elbow and wrist arched back, to cradle the curved back of a large striped Nautilus conch shell. The shell has dark irregular stripes that point towards the centre of the spiral. The hand holding the shell looks like it has just scooped the shell out of the water, as water is dripping out of the shell in an even stream to the base of the image.
In the Oyster Fishermen, Fiona poses as herself—she features in the photographs. The series was inspired by a chapter in the book Something like slavery? Queensland's Aboriginal child workers, 1842–1945 which spoke about Queensland's sea cucumber and pearling industries in the 1880s. During the period, Aboriginal people were kidnapped by non-Aboriginal people to work in the sea cucumber and pearling industries. The story sat with Foley and eventually, she devised this series of photographs, taken at different locations on K'Gari (Fraser Island). The blue dress in this image is a similar blue to the seas around K'Gari.