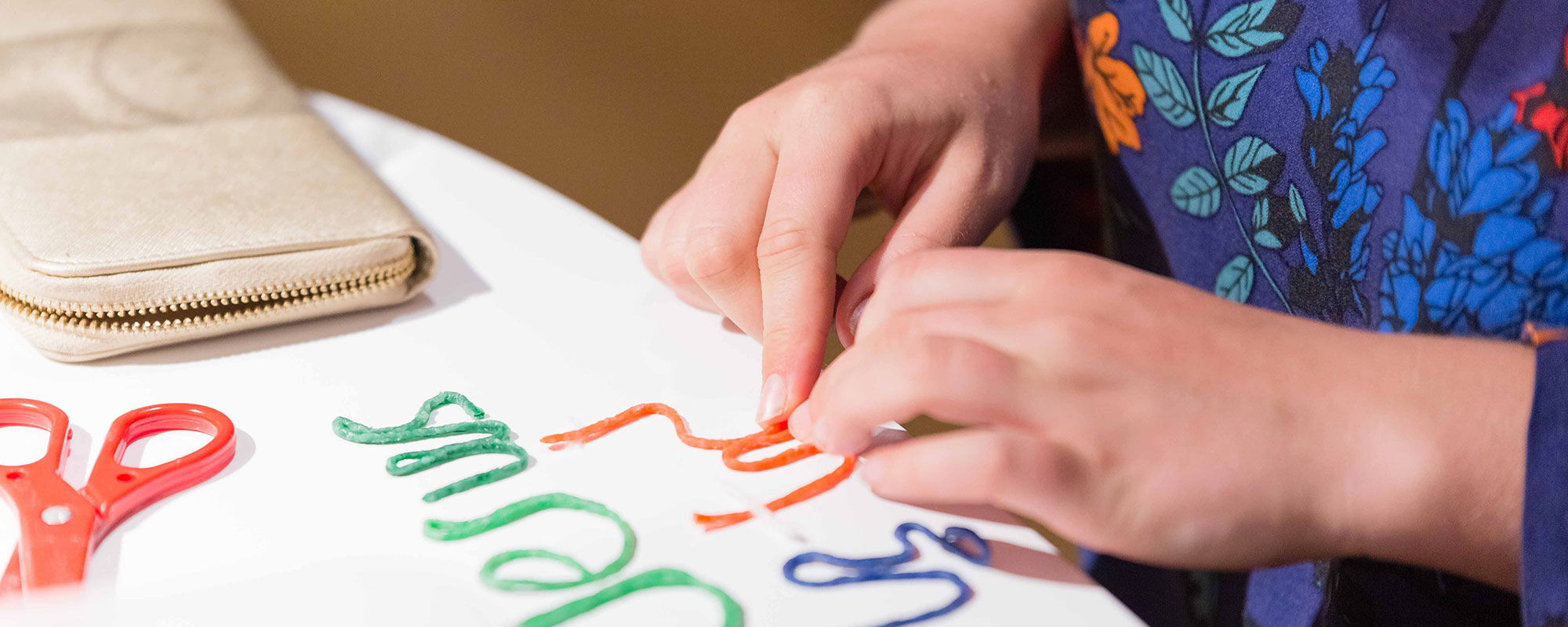 Making visible
Past workshop
Workshop for secondary students
How can we 'view' art without sight? How do people who are blind or have low vision experience art?
The program Making visible at QUT Art Museum explores how we can deepen our understanding of vision, through an interactive tour of the exhibition plus a hands-on workshop. The exhibition, Vis-ability: Artworks from the QUT Art Collection, draws on a selection of outstanding recent acquisitions from the QUT Art Collection and utilises innovative technologies to challenge our sight-driven experience of art. A centrepiece of the show is a tactile artwork created in co-design workshops led by the QUT Design Lab in collaboration with artists and industry experts.
In the hands-on workshop students develop their own tactile responses of an exhibition artwork of choice using everyday materials. Students will analyse and evaluate the exhibition design, different viewpoints in contemporary art, and use of emerging technologies. They will put these learnings into practice to produce designed solutions, which expand the way art is experienced and understood through the sense of touch.
In partnership with this program, Artisan are offering free tours and design thinking workshops at their complementary exhibition, Agency by Design.
Agency by Design examines the role design plays in social and emotional well-being for people living with a disability. This exhibition features innovative Australian designs that explore how users and designers are expanding and adapting accessible products and solutions in ways previously unimaginable. Fuelled by advances in research, technology, and fabrication, the proliferation of functional, life-enhancing products is creating unprecedented access in homes, schools, workplaces, and the world at large.
Curriculum link: Relevant to students taking Visual Art, Media Arts or Design and Technologies.
Students have the option on the day to take their works or display them in the QUT Art Museum exhibition for visitors to experience. Any works left on display will be posted to the student's school or group organiser at the completion of the exhibition.
Download Making visible workshop resource (PDF, 4.9MB)
Download Making visible workshop resource (Doc, 600KB)
For
Years 7 – 12
When
Tuesday – Thursday
14 May – 27 June
Duration
90 – 120 minutes
Cost
Free
Capacity
10 – 32 students
Where
QUT Art Museum, Gardens Point Campus & Artisan, 45 King Street, Bowen Hills