Audio descriptions: Artworks in the exhibition Looking Glass: Judy Watson and Yhonnie Scarce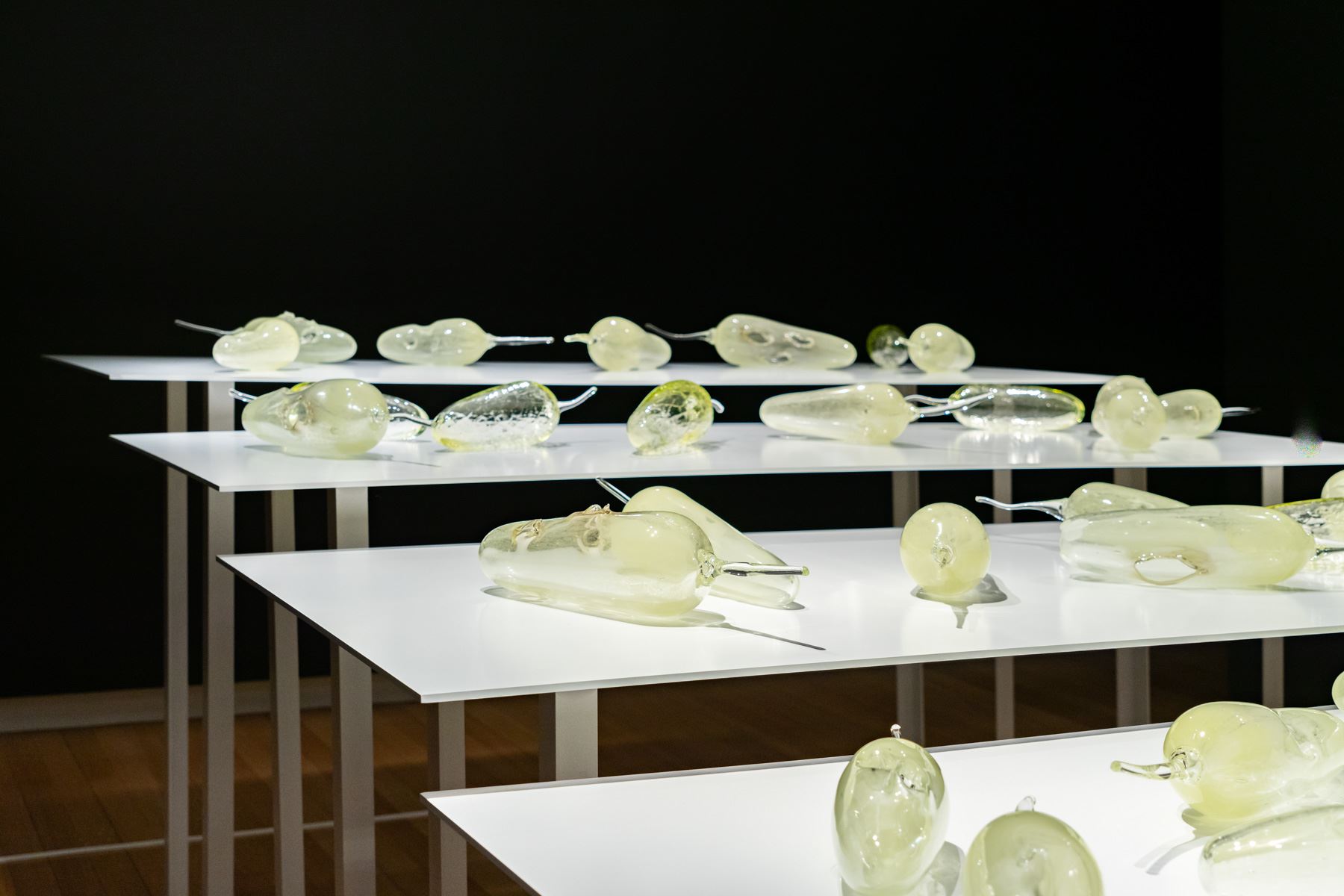 Yhonnie SCARCE Hollowing Earth (installation view) 2016-17, blown and hot formed Uranium glass dimensions variable. Collection of the artist. Courtesy of the artist and THIS IS NO FANTASY, Melbourne. Photo by Louis Lim.
---
Hollowing earth by Yhonnie Scarce, 2016-17.
Five white rectangular tables, each about 2 metres long and 1 metre wide, are placed in the gallery space. The tables are uniform in every respect, except their height – the closest table is 80 centimetres high, and each subsequent table is 10 centimetres taller than the one before it, with the final one being 120 centimetres high. The tables are placed side by side, along their longer edges, resembling tiered bench seating in a sports stadium.
Each table holds between 6 to 10 blown glass objects in the shape of bush bananas, an important Aboriginal food and totem. Bush bananas are closer in shape to an inflated carrot, than the curved Cavendish and Lady Finger bananas readily available in Australian supermarkets. Scarce's bush bananas are made from uranium glass, which contains uranium oxide, giving it a sickly green-yellow colour. The glass objects are organically scattered across the tabletops, and are largely similar in size and shape, but each has its own subtle markings and inconsistencies. Some have small holes sandblasted into the sides, while others have indentations or discolouration.
This work references the mining of uranium in South Australia, where the artist is from. Scarce belongs to the Kokatha people from central South Australia and the Nukunu people from the lower part of the Flinders Ranges, near Port Augusta and Port Germein in South Australia. The state has 25 zinc, copper, gold, iron ore, coal, and uranium mines. These mining practices result in the degradation of not only the land, but the health of the local people, animals, and plants.
The artist explains, "Uranium glass has been used in this work to represent the sickness that this material inflicts on those who have been in contact with it. But also the illness that is left behind once the earth has been opened and its contents have been exposed. Each bush banana form identifies the desecration of Country, gaping holes and scarred surfaces, all of which is the aftermath of the disrespectful behaviour that mining inflicts on the planet."