Audio descriptions: Artworks in the exhibition Looking Glass: Judy Watson and Yhonnie Scarce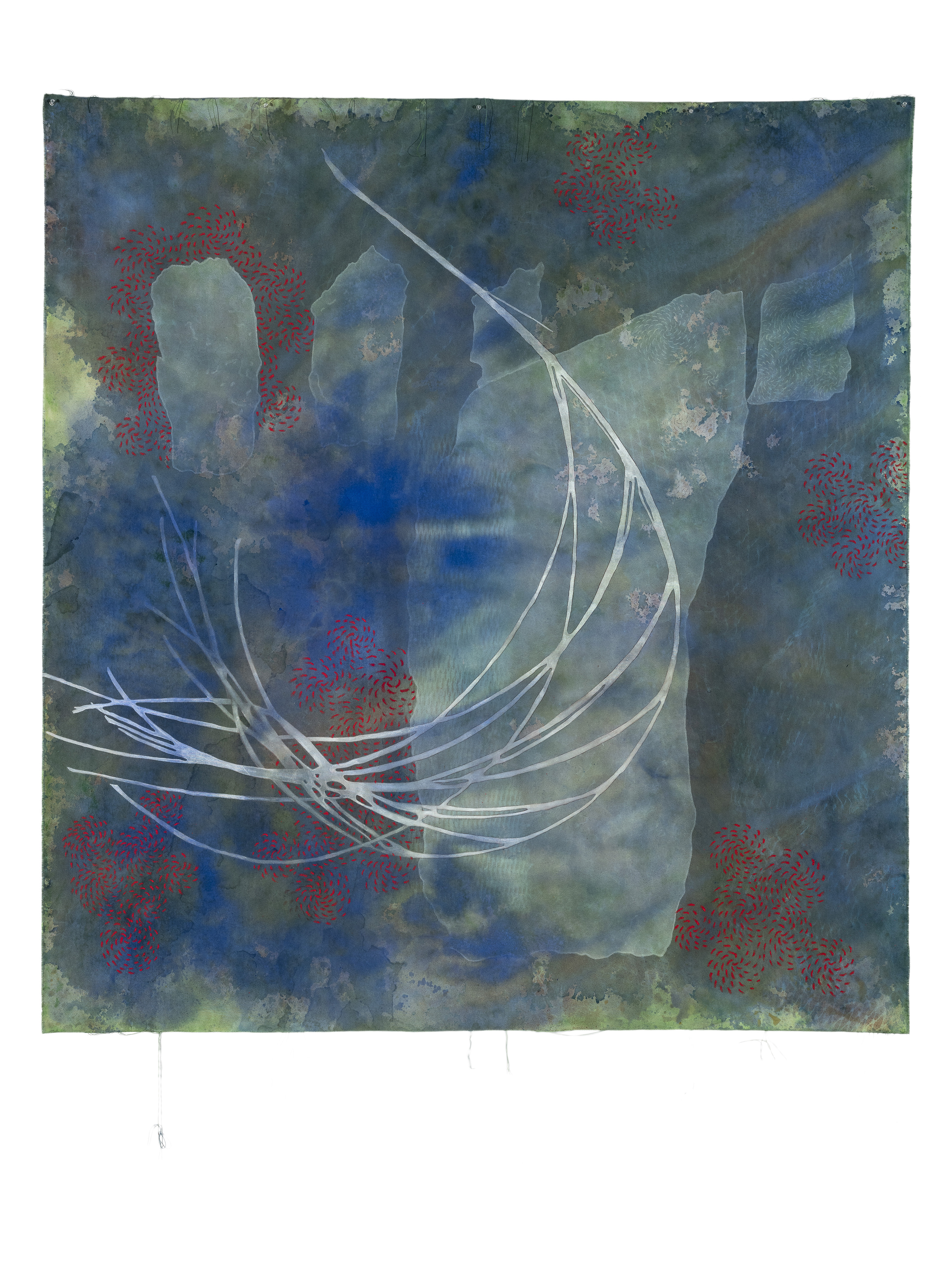 Judy WATSON spot fires, our country is burning now 2020, acrylic, pastel, graphite on canvas, 194 x 181cm. Courtesy of the artist and Milani Gallery, Brisbane. Photo: Carl Warner.
---
spot fires, our country is burning now by Judy Watson, 2020.
This work consists of paint, pastel and graphite on a draped canvas measuring 194 centimetres high by 181 centimetres wide. The work is unframed and pinned directly into the wall.
The canvas is saturated with pigment in warm green tones, filling and dominating the background. The forms of a standing stone circle with four smaller standing stones hover at the rear of the work in the upper mid-section. A stone circle is a monument of stones arranged in a circle or ellipse found most commonly in Northern Europe. There are two stones on the left-hand side, one in the centre and another on the far-right hand side with a large single standing stone positioned in the centre. Each of these stone shapes are lighter in colour, a softer blue green. On the surface of the work an ultramarine blue pigment is used, almost powder-like in its consistency and largely located across the left-hand side centre of the canvas. The work is dominated by the overlay of the branch of grevillea, starting just off centre at the top of the painting and curving out and down towards the right edge of the painting before bending back on itself in a clockwise direction, like a white shadow form transposed over the work hanging as if from above.
Tiny red teardrop brushstrokes gather and whirl together across the work giving the impression of a bird's eye view looking down from above on a disastrous scene below, wildfires burning, shifting, changing and out of control. Their liberal spread across the canvas speaks to the catastrophic nature of this event and of a climate crisis happening now. Judy Watson created this work during the bushfire season which engulfed enormous areas of Australian habitat and devastated native flora and fauna over the summer months of 2019-20, otherwise colloquially known as the Black Summer.
Indigenous burning techniques and land management are subjects called upon by the artist here, as too the translation of Indigenous knowledge and caring for Country that has been established for millennia. This work straddles a love for Country and a sorrow for a country that burns and bleeds to the climate emergency of today.
Judy Watson is an Aboriginal artist living in Brisbane. Watson's matrilineal family are Waanyi, whose Country is located in north-west Queensland.