Audio descriptions: Artworks in the exhibition Thinking into Being: QUT Alumni Triennial.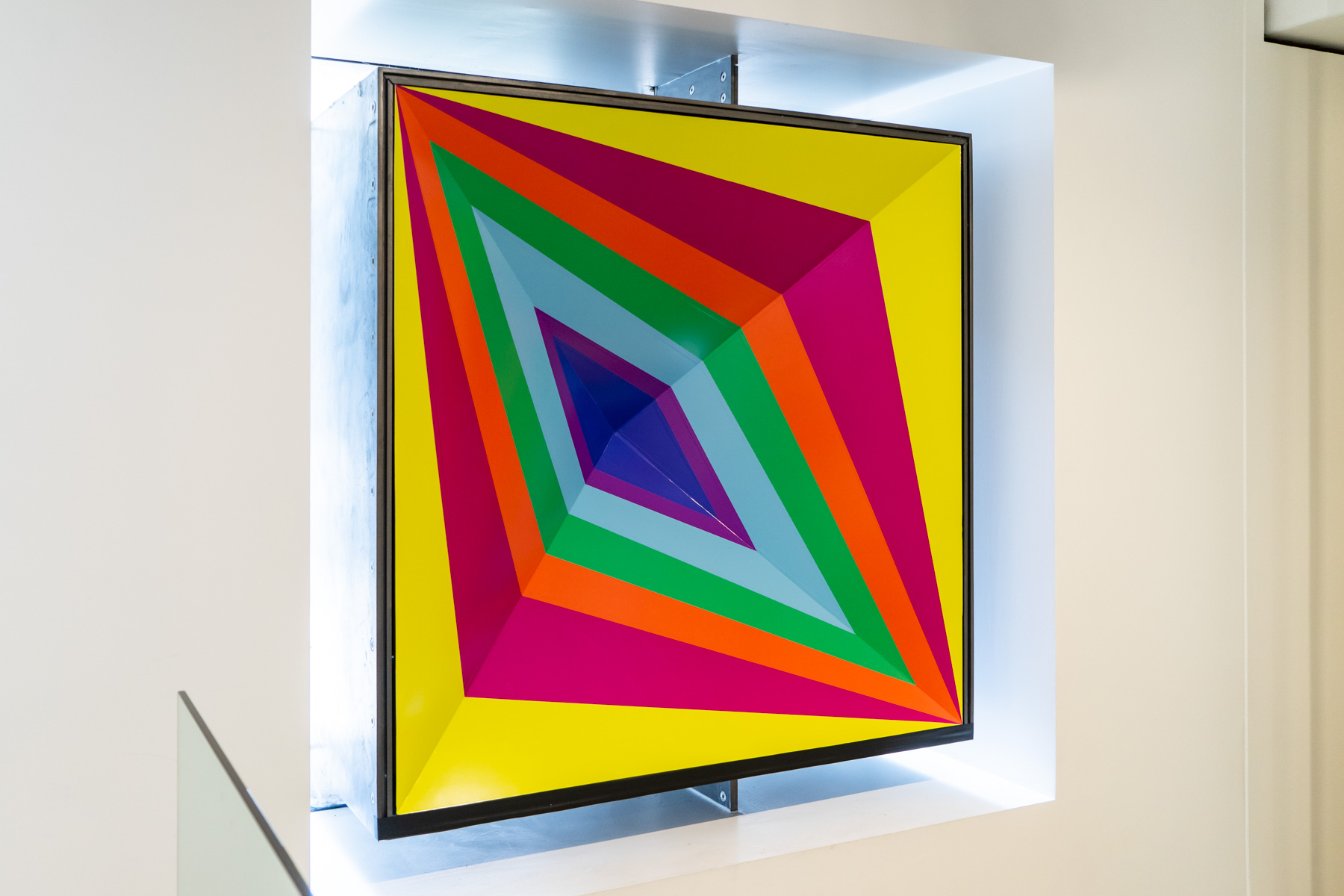 Emma COULTER Spatial deconstruction #26 2021, ink pigment on vinyl adhesive polymer, aluminium composite panels, wood, existing window boxes. Courtesy of the artist. Photo: Louis Lim.
---
spatial deconstruction number 26 by Emma Coulter, 2021.
This artwork is made up of two sculptures that are located in two different window boxes in QUT Art Museum. When entering QUT Art Museum one window box is to the left of the main entrance, halfway down the ramp. The other window box is located in the gallery on the right. The window boxes are 1.4-metre cubes that can be seen from inside and outside the gallery, and each sculpture occupies the whole window box.
The sculptures in this exhibition were specifically designed to respond to the window boxes, which are a unique architectural feature at QUT Art Museum and occupy a transitional space between the interior and exterior of the building, so that artwork can be displayed and seen both inside and outside the gallery.
On the exterior side of the window box near the main entrance, the sculpture is a pyramid shape on its side, with the base resting flush with the vertical glass window. The pyramid protrudes outwards about 50 centimetres and is made of aluminium composite panels.
Stripes radiate out from the central peak of the pyramid in various bright colours, to form a concentric diamond shape. The pattern has been applied by layering sheets of adhesive vinyl onto the pyramid's side panels, creating a tactile surface. Visitors who are blind or have low vision are invited to touch the sculpture to feel the pattern and the shape of the sculpture.
On the interior side of this window box, the sculpture is reversed, and instead of the pyramid poking out, the pyramid's point, is concave and poking in. It has the same geometric striped pattern as the exterior pyramid.
In the other window box, located in the gallery on the right, the protruding pyramid is inside the gallery, and the concave pyramid is on the exterior side of the building.
The artist describes these sculptures as 'introvert extrovert' structures that push out from the museum walls, into the university campus, while also retracting into the gallery space.
Although the two window box sculptures are physically separated in different galleries, they are considered one artwork, which can only be experienced fully by moving from the outside of the museum and into the gallery spaces, or vice versa.
Emma Coulter studied interior architecture as well as visual art, and now works as a visual artist. Coulter makes paintings and sculptures that are often designed to respond to the architecture that they are displayed within, so her works are frequently described as 'site-specific'. Her works are known for their bright colours and geometric patterns.