Audio descriptions: Artworks in the exhibition Thinking into Being: QUT Alumni Triennial.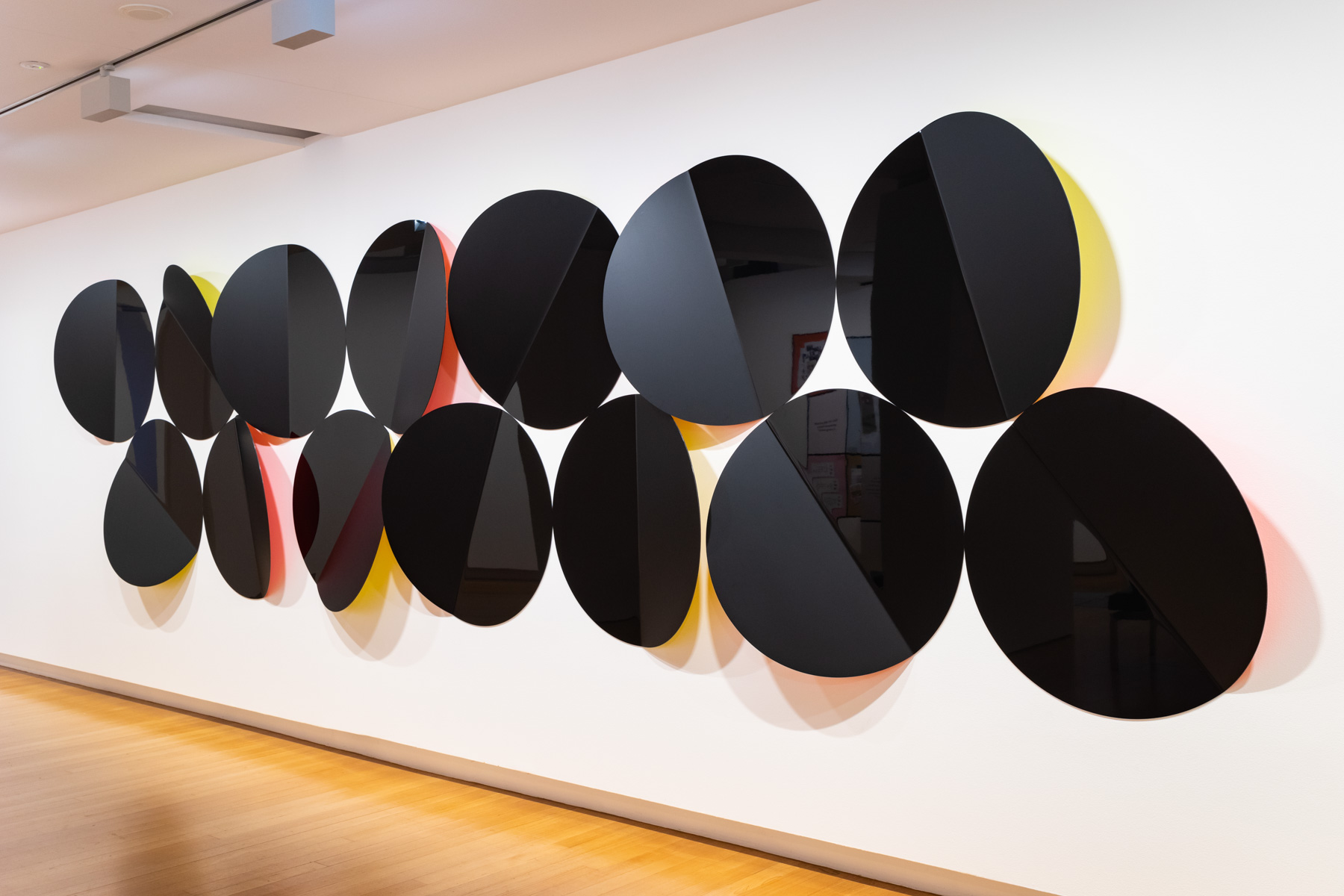 Jennifer MARCHANT Untitled 2021, ink, synthetic polymer paint, vinyl adhesive polymer, aluminium composite panels. Courtesy of the artist. Photo: Louis Lim.
---
Untitled by Jennifer Marchant, 2021.
This is a wall-mounted sculpture that consists of two horizontal rows of seven black circular discs, each 90 centimetres in diameter and about half a centimetre thick. The work is about 1.8 metres high and seven metres long overall.
The discs in this artwork are made of aluminium composite panels. Each one has a crease down the centre where it has been slightly folded to an angle of about 23 degrees, so one half of the circle is mounted flush against the wall, and the other half protrudes outwards at a slight angle. Each disc is rotated slightly, so for example on one disc, the crease might run from the 11 o'clock position to the 5 o'clock position, and on another it might run from the 2 o'clock position to the 8 o'clock position.
The crease separates the circular discs into two halves. One half is black with a matt finish, and the other half is a glossy black that reflects some of the surrounding light in the gallery space.
The backs of the circular discs are randomly painted fluorescent yellow and fluorescent pink, which subtly reflects yellow and pink light onto the wall behind them.
As the visitor walks by the wall sculpture, it changes slightly in appearance due to its reflective surfaces.
The artist, Jennifer Marchant, is an art and design practitioner who often works on large-scale public art projects and building façades. She is interested in studying light and shadow to capture the essence of form and place.
In her built environment projects as well as in her personal art practice, Marchant is interested in the repetition of a single unit. She explains, 'Generally, I am concerned with the reduction of things to their purest form, as well as the use of a single material. I wish to make the most with the least.' The circle is a recurring motif in Marchant's practice and can be seen throughout her work.
Also on display in Thinking into Being, are photographs of a building façade in West End that Marchant designed, as well as a cabinet with the artist's studies, process notes and models.