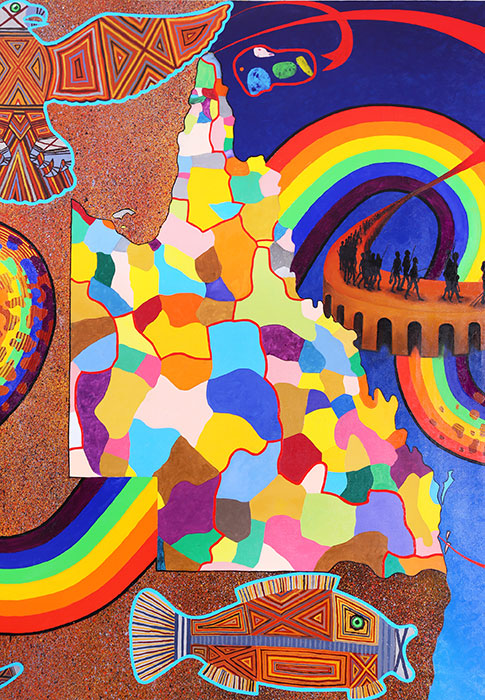 Frontier imaginaries: The life of lines
Past exhibition
Frontier imaginaries is a new multi-platform project that explores the condition of the frontier with the era of globalisation, conceived by guest curator and QUT alumnus, Vivian Ziherl, through a one-year Institute of Modern Art (IMA) Curatorial Fellowship.
The exhibition will take place across two Brisbane contemporary art venues; No longer at ease at the IMA (14 May to 16 July) and The life of lines at QUT Art Museum. It draws together leading Australian and Indigenous artists such as Gordon Hookey, Tom Nicholson, Megan Cope and Rachel O'Reilly, with their international peers like Alice Cresicher and Wendelein Van Oldenborgh, to reflect upon major dialogues within Queensland arts and culture within globally significant trajectories.
Frontier imaginaries stages dialogues around Queensland's unique experience of 'the life of lines'. From the history of the 'Brisbane Line' to ecological lines such as the Great Barrier Reef, current urban/rural and digital divides, and across-sea borders with neighbouring pacific nations to the north; Queensland is a region marked by a history and unique knowledge of the life of lines.
The exhibitions feature a lecture-performance in collaboration with the Australian Cinémathèque at QAGOMA as well as build dialogue with institutions and collections including the State Library of Queensland's John Oxley Library, the North Stradbroke Island Historical Museum , and the National Film and Sound Archive.
The project will continue to evolve across a two-year period through a network of international partners including the Jerusalem Show—the leading project of Al Ma'mal Art Foundation and a major component of the biannual Palestinian Qalandiya International—and the Van Abbemuseum, Eindhoven.
Frontier Imaginaries masterclasses
Watch Dr. Gillian Lawson's masterclass video
Watch Dr Courtney Pederson's masterclass video
In July and August 2016, QUT Art Museum held a series of masterclasses for high school students and educators with Chris Wood-Willems in conjunction with the exhibition Frontier imaginaries: the life of lines, which explored notions of the frontier within the era of globalisation.
These videos were used in conjunction with a curator-led tour of the exhibition, and design-through-making masterclass facilitated by QUT Landscape Architecture and Visual Arts Masters student, Chris Wood-Willems. The videos feature Head of Discipline Landscape Architecture, Dr Gillian Lawson and Head of Discipline Visual Arts, Dr Courtney Pedersen. The program explored lines, borders, boundaries, and separations by mapping, drawing and discussing how spaces are delineated, communicated, utilised, and maintained.
These masterclasses were hosted by QUT Art Museum in conjunction with QUT School of Design Landscape Architecture and QUT Visual Art.
Videos by ArtsMedia Consultants, Dr. Christiaan Willems
Dates
14 May 2016 - 14 August 2016