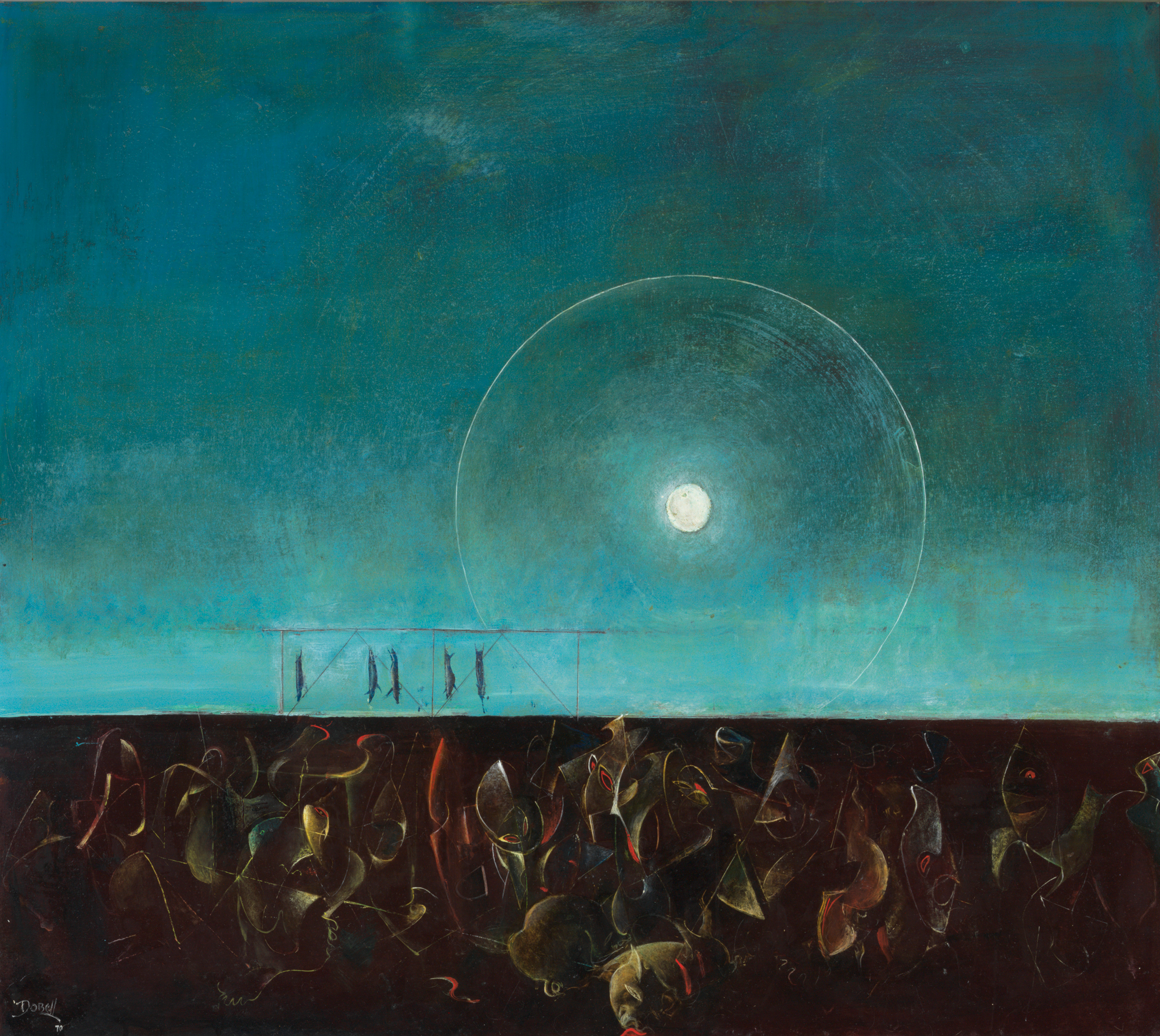 Painter in paradise: William Dobell in New Guinea
Past exhibition
William Dobell (1899–1970) was one of Australia's most celebrated artists from the 20th century. In May 1949, in an endeavour to escape publicity after his 1948 Archibald Prize win, the artist left Australia in the company of philanthropist and trustee of Taronga Park Zoo, Sir Edward Hallstrom.
Dobell was one of 27 guests flown by Hallstrom from Australia to Port Moresby and on to the central highlands of New Guinea.
For the following three months he drew and painted watercolours of the landscape, village life and the highlanders themselves, adorned with magnificent bird of paradise plumes, intricately constructed jewellery and elaborately painted faces and bodies. Captivated by everything he saw, in 1950 he returned to the area. His photographs and sketches formed the basis of many paintings he was to produce in the following two decades.
The exhibition, conceived by Natalie Wilson, Curator of Australian & Pacific Art at the Art Gallery of New South Wales, is the first exhibition to focus solely on this aspect of one of Australia's most recognised and well-loved painters. Through an extraordinary group of around 100 drawings, paintings, watercolours, and photographs from private and public collections—including the Art Gallery of New South Wales, National Gallery of Australia, Newcastle Art Gallery and Lake Macquarie Art Gallery—the exhibition will explore the artist's engagement with the landscapes and people he encountered on his journeys. Painter in Paradise: William Dobell in New Guinea is an S.H. Ervin Gallery travelling exhibition.
Supported by


This project has been assisted by the Australian Government through the Australia Council, its arts funding and advisory body

The S.H. Ervin Gallery gratefully acknowledges the support of the Gordon Darling Foundation & the Sir William Dobell Art Foundation
Dates
5 March 2016 - 1 May 2016