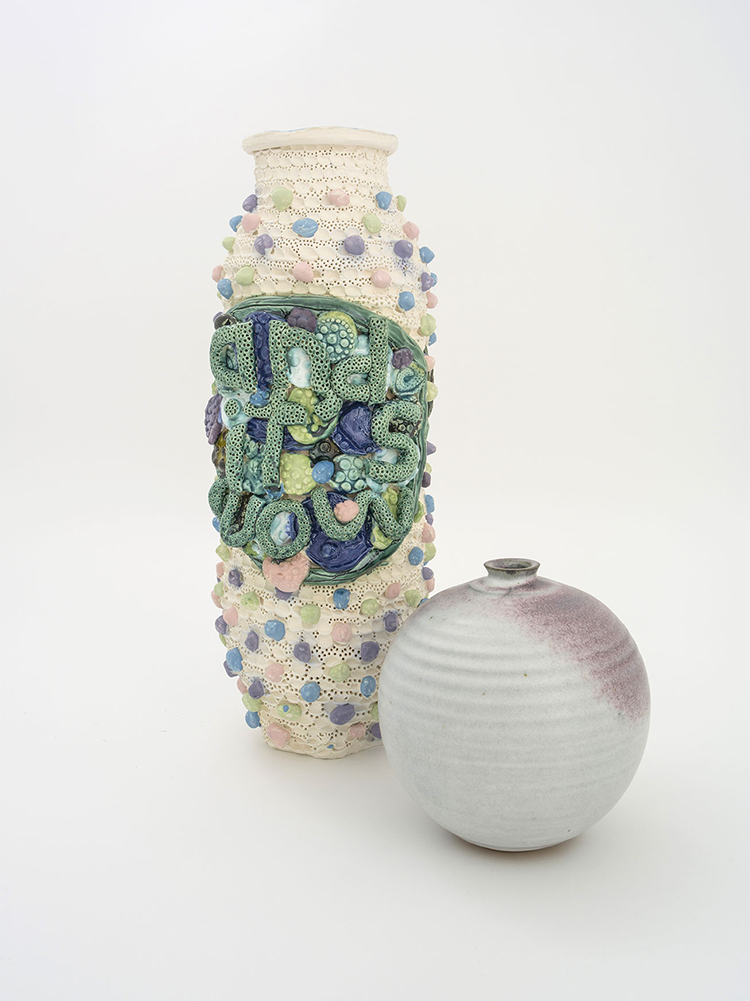 Earth and fire: Ceramics from the QUT art collection
Past exhibition

Ceramics have been enjoying somewhat of a revival in recent times. The renewed interest has been attributed to its defiantly low-tech approach as a reaction to the ubiquity of digital technology—a slowing down and a return to traditional craftsmanship in an era of point-and-click. In fact, ceramics techniques have remained largely unchanged since the earliest known ceramics were made 27,000 years ago, which, interestingly, were clay figurines rather than tools or utensils. Today, ceramics tread the line between art and craft, decorative and practical, form and function.
QUT's Art Collection encompasses over 300 ceramic objects dating mainly from the 1970s onwards. The Collection spans the work of Australia's leading practitioners such as Milton Moon and Gwyn Hanssen Pigott, through to a newer generation of artists such as Kirsten Coelho and Glenn Barkley—many of the objects representing some of the finest examples of the artist's work. Earth and fire gathers these works together to explore contemporary ceramic practice with its organic, experimental and seemingly imperfect qualities that are as much about the mark of the maker as of the material and process.
Artist include: Philip MCCONNELL, Carl MCCONNELL, Chris SANDERSON, Warren PALMER, Errol BARNES, Hilary BARTA, Milton MOON, Bill SAMUELS, Peter RUSHFORTH , Bernard SAHM, Alan PEASCOD , Joe FURLONGER, Thanakupi, Ron HURLEY , Marea GAZZARD, Stephen BENWELL, Reg PRESTON, Robyn KILLIN-MCAULIFFE, Kathleen SHILLAM , Stephen BIRD, George GITTOES, Col LEVY, Carol ROSSER, Gwyn Hanssen PIGOTT , David RAY, Merran ESSON, Alexandra COPELAND, Jenny ORCHARD, Shiga SHIGEO, Glenn BARKLEY, Gerry WEDD, Hermia BOYD , David BOYD , Kirsten COELHO, DAI Li, Gus MCLAREN, Sue GUYMER, Fiona MURPHY, Stephen BIRD.
Curated by: Vanessa Van Ooyen
Dates
18 March 2017 - 21 May 2017